Creative Life Coach for visionaries, and creative individuals who are fed up with what was and are ready to create a new future.
Helping you build your dream and overcome the nightmares  
Life Coaching is not counseling or therapy.  A Life Coach is specially trained to listen deeply and support you in guiding you to the answers and solutions that you need to move forward in your life, relationships, business and/or ministry.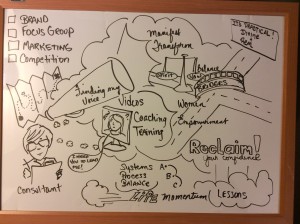 Graphic recording our coaching sessions from time to time is offered at an additional fee. This powerful tool helps you to visualize and visualize and identify your creative thread of thought, obstacles and plan of action.
I specialize in working with Christian leaders, women over 50, and creative individuals who struggle with too many ideas or those who live with a "Creative." 
One-on-one coaching sessions, and group coaching is available in person, via phone, Skype, or online private chat room 

Contact me now or call me at (720) 295-7409